I've lived in India all my life, and I'm not proud of my people. But I'm not giving up.
Here's why.
Reality check for 1/7th of the world's population
We Indians are 1.2 billion people on Earth. Yes, many of us are still extremely poor. But a lot of us in that fat middle and upper class have means beyond survival. Hundreds of millions of us have disposable incomes, we have weekends for ourselves when we go to movies and eat expensive popcorn. Yes, we have cars and ACs. Heck, now we even have Netflix, iPhones and Macbooks.
One would imagine that multiple hundreds of millions of this middle class will at least have a million passionate people. Or at least a hundred thousand people who aim for perfection in their chosen field. Or maybe ten thousand people who aim at being absolute best in the world. A thousand people who have dedicated their lives to making that tiny dent in the universe? How about just a hundred people who the world looks upto? Or just one person who will change the course of human history?
How many Indians come into your mind who have actually defined mankind's potential?
Zero – that's what we're proud of
Consider India's performance:
Nobel prize winners from India in last 100 years: 5
Indian Olympics medal tally this year: 2
Global brands from India: 0
Michelin star restaurants: 0
Top indian university: not in top 100 globally
Let me remind you: I'm talking about a country that makes 1/7th of Earth's population. Isn't it an oddity? Why, then, Indians are so chill about it?
I can go on and on about India's standing globally. And by this point many (Indians) readers may become defensive or angry as this post may come across as rant. But there's no denying that it's fantastically unexplainable that almost 20% of the world's population is OK living a life of mediocrity, a life of following rather than leading, a life where past achievements are celebrated ad nauseam, and a land where every night is another day survived.
What's perplexing is why so many of us don't see the absurdity of what India has become today.
Free speech is a joke, government postpones spectrum auctions because of 'shradds' (pointless, superstitious religious events), half of the 20 most polluted cities in the world are in India, people get run over on a road and are left to die, a women gets raped in India every 15 minutes, farmers are hanging themselves, one in five young adults in the most prosperous state are drug addicts.
Why are we OK with all this?
We keep our homes clean, but feel comfortable rolling down a car window and throw trash on our roads. While other countries are racing ahead with their highways and railways, we celebrate when a massively delayed flyover gets inaugurated. We're comfortable running over pedestrians by believing only losers obey traffic rules, yet we're okay stuck in traffic for hours. We foster our little dreams in childhood, yet we're okay listening to our parents that a Infosys job is the best they can hope for. We don't question why the hell meat shouldn't be eaten on Tuesdays or why cows are sacred.
This is our country's capital.
And this is our country's biggest city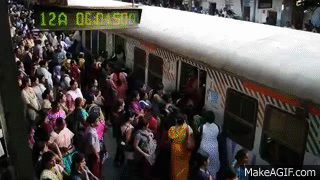 All this is every day life that we've come to accept unquestionably.
Yet our feelings are hurt easily, our egos are big and we have deference to authority and tradition. Forward looking ideas terrify us. We have become inward looking, defensive and take pride in whatever little we can latch on: spirituality, invention of zero, invention of chess, Taj Mahal and… and what?
We've become meek. And our souls have collectively died.
I can't go on. I must go on
There's no point of running away from this – where will you go anyway? Better to die trying than living a comfortable cocooned life elsewhere. Sure, like most Indians wanting to go to US, Australia, UK or Europe, I could also settle "out of country". But that'll be shameful. The one life I've got can't be lived with this clear realization that haunts me every single day:
Over a billion people are living on Earth without a soul, without passions and without an aim to make a difference in the world
A smaller country can take solace in a variety of facts: lack of natural resources, lack of enough young people, an autocratic leader. But what do we have apart from excuses? We have a working democracy, land filled with natural resources and more young people than anywhere else in the world.
If the India paradox doesn't infuse anger and drive into a person, I don't know what will.
What's the sad part? Some of us Indians may tweet about this article or share on Facebook or get angry or inspired for a little while. But most of us will go back to business as usual in a day.
And our business as usual is being mediocre. Day after day. Mediocre until we die.
I'm trying to do my part by pushing myself and those around me to seek excellence by setting eyes on being the global best and by fostering a culture of criticism-led improvement. But we Indians defer to authority, plus we have egos that get hurt easily. We don't have a tradition of criticism which forms the base of all progress. We have a tradition of acceptance of the old ways.
Only if a few of us dedicate ourselves to free thought, encourage a culture of improving through criticism and aim for perfection in our chosen field, then maybe in a few decades we might be able to change the course of this trawling ship just by a tiny bit.
This ship carries 1.2 billion people and it's directly heading towards not an iceberg – but into a cold, desolate and endless ocean which makes sucks souls out of people, leaving them to die out of mediocrity and boredom.
Join 150k+ followers
Follow @paraschopra